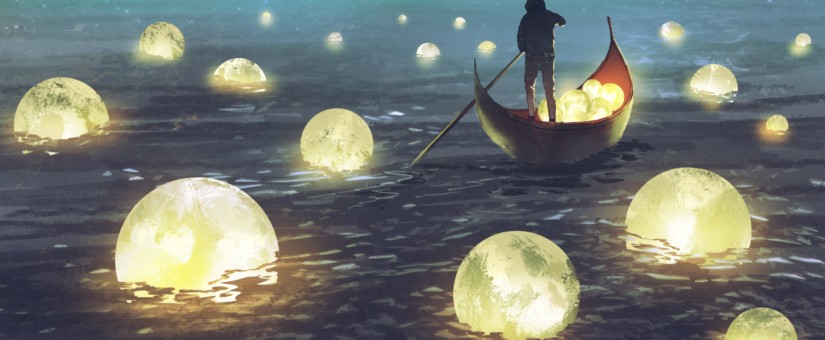 ONLY UTOPIAS ARE REALISTIC - COLUMN
Posted by Alice Rombach
On 22. June 2022
Normality, Chaos, Stability, post-corona
https://www.goethe.de/prj/zei/de/zgt/22958781.html
Why do we give so much importance to the question of gender? What would our society even look like without gender?
This is an invitation to think. To think big, to look far into the future and, above all, to be a bit brave - and to get ourselves moving. So, let's dream and create a little utopia that may seem radical at first, but in the end is everything else.

To develop new worlds, we need many variations of them. Because we want to include the polyphony of needs and perspectives. And this is perhaps the hardest thing: we have to be willing to unlearn our knowledge of how the world works. For that, we need trust and courage.

We often make the mistake of thinking that we only want to change one small thing in the system, but not the big picture. For example, we demand 30 per cent women on boards, we want mentoring programmes, gender equality workshops and individual role model women who are highly praised. Don't get me wrong, all of this is absolutely necessary right now. We absolutely need more women in the thin air beyond the glass ceiling and of course in decision-making and creative positions. There are more Thomases and Michaels in board positions than women. There should be many more women, BIPoC, trans* and so on in general. So: different ages, with children, without et cetera You get the idea: all variations everywhere. But it is much more essential that we find feminist thinking and acting people there. And that could also be Thomas.
The "4-in-1 Perspective
This leads me even more strongly to the thesis: Let's leave it at that with the controversial category of gender. Let's rather experiment, dream up visions of the future to open up new possibilities: What would a world without gender look like? Or a world in which gender would be ignored, i.e. would exist but be completely irrelevant - like body size, for example.

What would have happened if you had been able to decide freely? Or could still decide? Or if the decision was no longer relevant? Who would I be if I had had the choice?

I believe that the aliens observing us have been puzzling over a riddle for decades: why these little human spirits cling so tenaciously to the system of men and women and social expectations, even though their view of the world usually begins to falter after supper at the latest.

What a restriction. How relieving it would be, on the other hand, to live in the "4-in-1 perspective", for example.

This is a concept of the great sociologist Frigga Haug. The basic principle is enough sleep for everyone who wants it. And the dull boredom of everyday life is broken up by 4 x 4: four hours of gainful employment, which is enough for efficiency in the country, people are not productive for much longer anyway; and four hours of reproductive work, i.e. looking after children, caring for the elderly, doing the housework and hopefully also hanging out in the sandpit with an ice cream now and then. Then four hours for self-realisation: music, sports, other hobbies. And four hours for politics from below: Volunteering, village or district involvement. Those who still want to be full-time breadwinners or permanent snotty noses can do that. But they have chosen it themselves.
A non-binary society
Let's just imagine a non-binary world, because that's not so far-fetched. All these children Sasha, Kim, Luca, who then all have non-binary names - don't worry, there are enough names - jump back and forth between glitter fairies, football, castles, nail polish and all colours. Depending on their current development, needs, their own mood and the mood of the day. They can talk to everyone about their fears, willingness to take risks, beautiful or torn clothes and broken knees. Children accept the framework that shapes their reality, they trust and are curious.
If these gender-specific inequalities are no longer relevant, then they are simply passé. Because every child is unique, a wonderful being and - gender-unspecific - sometimes an idiot, that still exists even in utopias.

From Sweden, the gender-neutral personal pronoun "hen" had spread among authors of children's books who want to offer as many children as possible the potential to identify with their stories. It has become standard. Even more: Where old words with gender-specific categories and attributions have disappeared, space has been created for new ones.They are understandable and simple words - so that they have become a clear consensus in everyday life. They are not technocratic, but make the world colourful, they are more precise. It's a bit like switching from black and white TV to colour TV, or as if we could sense a fourth dimension. There is a lot of breathing space in language, but every day more and more nuances are added. Admittedly - it can be difficult to keep track of this: who wants to be called what in what situation.
For the best of all worlds
But why is this important at all and so contested? Why are the fronts so hardened? Sure, it's about gender hierarchies and the associated power and privileges of gender as a category of social order. And the last fool, across the sexes of course, will hopefully have realised at some point that the variations within a sex are greater than the difference between the sexes - no matter how long attempts are made to desperately find research results to the contrary. For my part, I imagine it would be really liberating and nice to no longer belong to a camp that is at enmity with others. And damn it, then we would still really have enough to do.


Feminist utopias also mean granting equal humanity to all of us. Our social structures are strongly designed to almost stifle utopian thinking. We need more utopian elements and dares in everyday life to get closer to a great utopia.


(Feminist) utopias are thought exercises - as versions for the best of all worlds. So that we can eventually become the ones we really want to be.