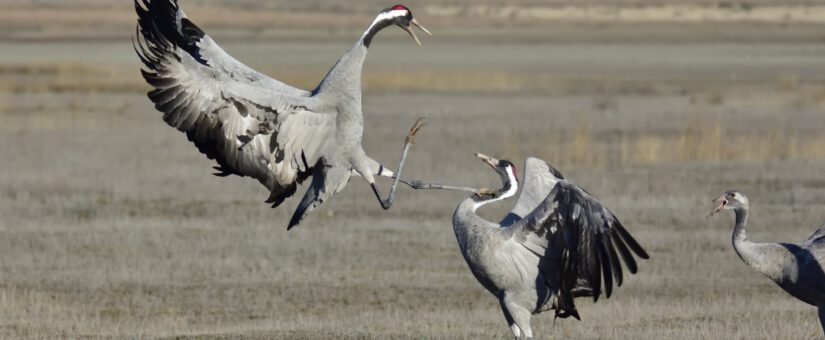 Was die Ölkrise, Kraniche und die Wirtschaftspolitik Südafrikas miteinander zu tun haben
Posted by Alice Rombach
On 4. May 2021
Fiction
Traditional planning is based on forecasts. This is based on a mindset that the world of tomorrow will be similar to the world of today. In the relatively stable 1950s and 1960s in the Western world this worked pretty well, but since the early 1970s less and less. Why? Since the 1990s, the term VUCA world, an acronym from the US military, has been used as a basis for explanation. It stands for volatility - uncertainty - complexity - ambiguity. We live in a world that is constantly changing.
Change has always taken place - in fact, as probably the only certain continuity. Change now, however, takes place in quicker succession - with ever more unpredictable effects.

The 1973 oil crisis - a wild card?  And a little extra clause in the contract
In the 1950s, a team led by Herman Kahn, in the Rand Co-operation, a joint project of the US Air Force and Douglas Aircraft, began to develop scenarios using game-theoretical methods with the possible consequences of a nuclear war for the American missile defence system. This is considered the birth of modern scenario planning as it is used and developed today.
When the Yom Kippur War broke out in autumn 1973, a chain reaction was set in motion very quickly, as in a domino game. Angered by Western support for Israel, OPEC immediately cut back extremely on the amount of oil available. The result was a global fuel shortage and very quickly a worldwide recession, which in turn triggered a stock market crash. In this frenzy, there was one company that had not known the timing but was not caught unprepared by this 1973 oil crisis. What happened?
Based on Herman Kahn's method, Pierre Wack was the first to transfer the use of scenario planning to the business environment of the British-Dutch oil company Royal Dutch Shell at its London headquarters.
An oil crisis - sharply rising oil prices and rapidly falling production volumes - was considered a very unlikely development at the time. Accordingly, Royal Dutch Shell and the newly formed scenario research team were also laughed at in their circles when they produced a study on the consequences of such a potential oil crisis.. They noted, however, that it could potentially lead to long layovers of oil tankers in ports all over the world in this scenario. A sudden increase in these very expensive port charges would drive up transport costs extremely. Therefore, as a precautionary measure, the in-house lawyers extended their contracts with the shipping companies to include a clause exempting them from precisely these charges in the event of extended lay times due to the crisis. Thought to be an over-cautious crank, the new contracts were waved through. In 1981, after the outbreak of the Iran-Iraq war, the company repeated a similar feat, having already sold their surplus volumes before the price completely collapsed due to the oversaturated market, while other companies were still building up their reserves.  The decision-makers at Royal Dutch Shell had prepared themselves mentally for various possible dramatic situations. They had large, detailed, colourful pictures of various future landscapes in their heads and drawers.
With their unconventional approach, they had completely challenged traditional management thinking at the time. The hype triggered by this calmed down again over the next few decades. It was not until the 2000s that scenario planning returned to the centre of attention - for which it found all the more lasting significance for companies, consulting and science.
Transformative Scenarios - Cranes over Mont Fleur
In the meantime, however, another large and successful scenario project had been carried out. However, it had a different focus in its character of political orientation of an entire country. Although it remained less well known overall, it had a significant influence on the direction of transformative scenario planning, which is mainly used in political and social projects.
Adam Kahane was based in London at Shell as head of the company's scenario team. The role of this team was to search the world for global social, political, economic and environmental signals of change in order to design possible future scenarios to make the company's own strategies more robust and adaptable.
Nelson Mandela had been released from prison in February 1990 and the well-known African National Congress (ANC), as well as other parties and organisations, had been legalised.  Before the first elections after the end of apartheid were to be held in April 1994, a variety of "forums" were held in South Africa with as many interest groups as possible, such as political parties, civil society organisations, professional associations, government agencies, trade unions and business groups, in order to pave new socio-political ways.
The so-called Mont Fleur Project, in which Adam Kahane participated in 1991/92, brought together a diverse group of 22 prominent South Africans - politicians, activists, academics and business people from across the ideological spectrum.  The aim was to bring together people from different organisations in the midst of a time of upheaval and deep lines of conflict to think creatively and innovatively about the future of their country - the shape of the next 10 years.
The results of this project produced scenarios that were symbolically named after different birds and disseminated through newspapers all over the country. They thus became the blueprint for South African economic policy for the following ten years.