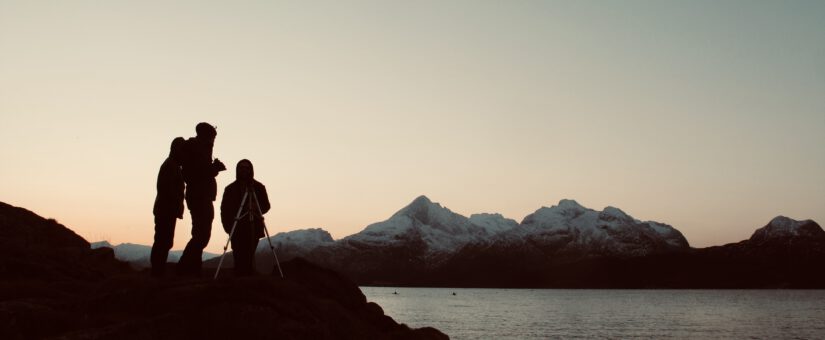 Tromsø, Dunkelheit und unser Zukunftsmindset
Posted by Alice Rombach
On 26. October 2022
Dunkelheit, Mindset, Tromsö
What the Tromsø phenomenon is and what darkness has to do with the future. What your mindset has to do with it. And what we can learn from those who live in the far north.
 This is about the Tromsø phenomenon. And about what it was like for me to live in this city north of the Arctic Circle in Norway. And what all this might have to do with your near future. 
Our expectations and stories - Mindset decides -
How do people who live in the High North manage not to get depressed in winter is a question asked by many people I have spoken to time and again about life in the Arctic. Kari Leibowitz, a young Stanford psychologist, spent the winter in Tromsø a few years ago to study just that. She used as a basis the findings of psychology professor Alia Crum, which have now become known as Fixed and Growth Mindsets, among other things.
A mindset is an inner attitude, an expectation, a narrative with which people perceive their environment, their life and their future. They are the stories we tell ourselves every day.

In Tromsø, surprisingly, winter time is not considered a problem at all. Not even necessarily as a time without light. Rather, it is perceived as the "time of other light" by the people living there.
In Tromsø, surprisingly, winter time is not seen as a problem at all. Not even necessarily as a time without light. Rather, it is perceived as the "time of other light" by the people living there. The months of so-called nautical twilight - when the sun no longer rises above a certain point in the sea - are anything but pitch black. In fact, a magical play opens up with a whole spectrum of reddish and bluish pastel shades. The sky is coloured into a delicate hue that only exists at this time and in this latitude. 
Tromsø is home to extreme variations in light between the seasons. During the polar night, which lasts from November to January, the sun does not rise at all. Then in January, the first seconds are celebrated when the sun shows itself again. Then the days quickly get longer and longer until the midnight sun doesn't set at all from May to July.

Tromsø is located about 350 kilometres north of the Arctic Circle, has a population of just under 80,000 and boasts all the northern civilisational superlatives of the world. From the northernmost brewery to the northernmost university. Due to the Gulf Stream, life in northern Europe is possible at these latitudes. In North America, there is hardly any civilisation at the same altitude.
Modern cod liver oil and an international film festival in the snow
Nevertheless, during this "mørketid" (the dark time) the body lacks vitamin A, which is produced by direct sunlight. Heat lamps and modern cod liver oil can help. That is why many people turn on UV/heat lamps at home in the evening. As early as autumn, streets, cafés, restaurants, cinemas and public buildings are lit up with warm lights, candles and cosy decorations. In addition, many northerners substitute with vitamin A in pastille form - the modern form of liver trans - which can be found at every supermarket checkout. Eating lots of cod also helps - "in cod we trust" is the general motto in the High North. Norway was a country of fishing before it achieved great prosperity through oil in the 1970s.
There are countless clubs that become very active, especially during this time, and organise many performances and other social activities. In addition, many distances are covered on skis - even sometimes during the lunch break. And there are celebrations. The fire. The life. In January there is a wonderful big international film festival - partly outside.
The time of the other light
It seems as if the people in the far north could show us - how to face the darkness. It seems to depend on our mindset - individual and collective - on our inner attitude, how we face autumn and winter.
And why should we be afraid of the dark?
Autumn and winter are more beautiful with good lighting, outings in nature, snow and especially together with other relaxed people.
Most of it we can create for ourselves. If we choose to do so.

At its core, this is what the Tromsø phenomenon tells us. Because it gives us freedom. With a mindset that creates itself and chooses to embrace the possibilities of beauty and design. 
Dissolved boundaries
For me, however, there is something else that is crucial to the Tromsø phenomenon. Tromsø is on the periphery, but in contrast to many other regions at this latitude / or even places inland, it has historically always been a "melting pot". As the gateway to the Arctic, this place was the starting point of many polar expeditions, and today there are many research institutes, including an art university.
It seems as if much of what is artificially kept apart by categories in other places demonstrates this way of thinking and makes it superfluous. Nature and culture do not need to be separated here, but merge into each other. Viking traditions naturally live on with high tech and enter into new alliances. And an open community always takes in new people and influences.

Perhaps it is precisely this curiosity and open attitude that enables them to have a good winter and look confidently to the future.